The Perfect Read
Ideas for books and blogs inspired by life and the Perfect Everything
Destination: Switzerland
Switzerland didn't start out as a tourist destination. With its craggy mastiffs and inhospitable terrain, Switzerland was long seen as a place to avoid, not linger. That all changed around the middle of the nineteenth century, when British adventurers set their sights on Europe's most mountainous country. In 1857, they founded the Alpine Club and took on mountain after mountain. Even less adventurous Brits, like Arthur Conan Doyle and the more recent Ian Fleming, became Swissofiles. Thanks to their fascination with the country, The Final Problem, featuring the decisive faceoff between Sherlock Holmes and James Moriarty, is set in Swtizerland, and the James Bond classic, On Her Majesty's Secret Service, features the alps themselves. Even if you're not headed to Switzerland, both of these stories make for fun summer reading.
Following the activities of the Alpine Club, Switzerland became a 'must' on the Grand Tour itineraries for the young and wealthy. Majestic hotels line the Swiss Riviera and stand as a testament to its popularity during the Belle Époche. If you're tempted to soak up a bit of this ambiance, take a look at Henry James' novella Daisy Miller, set in Vevey's Trois Couronnes Hotel. For a more modern take on hotel life on the Swiss Riviera, why not pick up the Booker-prize-winning Hotel du Lac.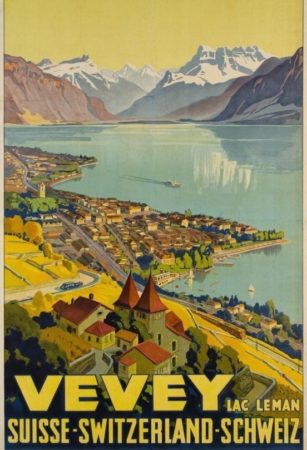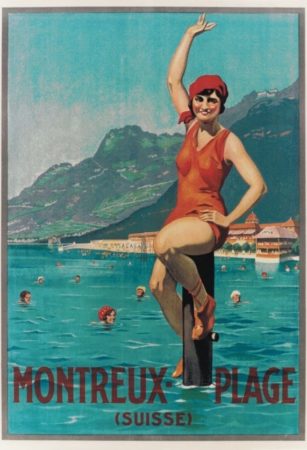 Switzerland's pristine air and unspoiled beauty also attracted another sort of tourist: the seeker of better health. Sanatoriums abounded and treated everything from tuberculosis to schizophrenia. Remember, Switzerland is the home of C.J. Jung, the father of analytic psychology. And so, in fiction, Switzerland is often the destination for peace of mind. It plays that role for two of the Lost Generation's greatest writers. In Ernest Hemingway's A Farewell to Arms, Frederic and Catherine, the romantic protagonists, take refuge in Switzerland during World War I. In F. Scott Fitzgerald's Tender Is the Night, the story mirrors Fitzgerald's life and draws heavily on his wife Zelda's mental struggles and time in Swiss sanatoriums.
Switzerland has also inspired a long list of composers and musicians. Igor Stravinsky, Alexander Scriabin, Yehudi Menuhin, David Bowie, Freddie Mercury, Tina Turner, Phil Collins, and Shania Twain have all called Switzerland home. Perhaps due to their influence, there seems to be an endless offering of musical festivals in Switzerland. You could fill your entire summer hopping from Lucerne's classical Summer Festival to the Paléo outdoor rock festival to the most famous of all, the Montreux Jazz Festival. However, if you can't make it this far, don't worry. You can still be inspired by the stories of these musicians and festivals. Perhaps pick up Freddie Mercury: The Great Pretender, one of the best biographies of Queen's front man. Or, if you're pressed for time, stop by Ellen Barne's interview with the founder of the Montreux Jazz Festival, Claude Nobs, where he tells the true story behind Deep Purple's most famous song, Smoke on the Water.
If your destination is somewhere other than Switzerland and you're looking for a book about your holiday spot, I have a final tidbit for you. Visit mappit. Type in your destination, hit search, and mappit will stream out a list of books for you. It even has a handy pull down menu for 'nearby places.'
Happy July reading! I look forward to seeing you next time.
---
Sandra Nickel is a writer and poet with a taste for the international. Born in the United States, she has lived in Canada, Russia, France, and Switzerland. She has 3 Siberian cats, 1 Australian dog, 1 Swiss daughter, 1 Swiss husband, and 50 Japanese fish.