Torroncini
Torroncini are actually Italian little nougat bars.
Torroncini make a beautiful present; wrap them up in colourful paper, place inside a gift bag and give to your family and friends for Christmas.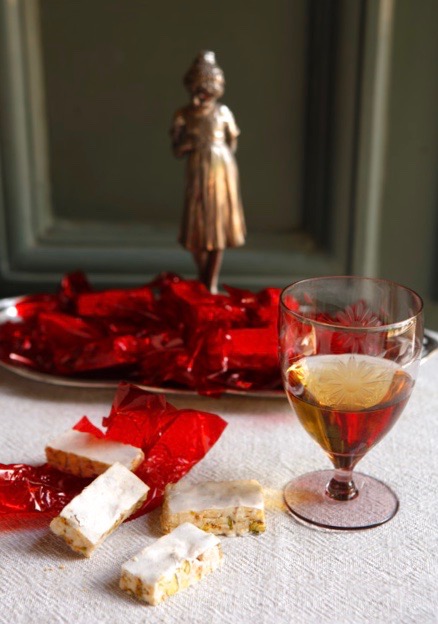 How to make it:
You will need:
4 sheets of rice paper
1 egg white
200 g (7 oz) honey
1 teaspoon vanilla essence
400 g (14 oz) icing (confectioners') sugar, sifted
250 g (9 oz) blanched almonds, toasted and chopped
250 g (9 oz) pistachios, toasted and chopped
Line a 20 cm x 23 cm (8 in x 9 in) tray with 2 sheets of overlapping rice paper.
Place egg white in a large bowl and using an electric beater, beat until firm peaks form.
Add the honey and vanilla and beat until honey is incorporated.
Gradually beat in icing sugar until thick and glossy, then transfer mixture into a heavy-based saucepan and stir over low heat for 10 minutes or until chewy.
Stir in nuts and remove from heat.
Pour the mixture into prepared tin and spread evenly using a wet palette knife.
Top with remaining rice paper.
Let it cool, then cut into individual pieces.
Store in an airtight container for 1 month.
Makes about 24 pieces
The Perfect Gift!